// Greetings, fellow survivors!
Welcome to the new and improved SMXhud modlet for 7 Days to Die - Alpha 18. This version has undergone a great deal of improvements in light of the many new features that Alpha 18 brought to the table. See the changelog below for detailed information.
// Terms of Use
You are allowed to use this modlet as is for your own personal use and/or distribute said modlet bundled with something of your own creation as long as all the files of this modlet remain unaltered and you do not claim credit for creating the modlet itself or any of the files provided with it.
You are welcome, but not required, to inform the developer of this modlet should you wish to bundle and re-distribute said modlet as described above.
You are not allowed to use any of the assets bundled with this modlet in other projects where said modlet is not included and credited. This restriction applies to all files that this modlet consist of.
You are required to inform and ask permission from the developer of this modlet should you wish to make changes to any files provided with the intention to bundle and/or distribute.
Should permission be granted you are required to make the changes as a new modlet that injects into the modlet in question and keeping load order in mind. The original modlet shall be distributed as is with no change to its files whatsoever.
// SMXhud //
SMXhud is SMX as you know it from Alpha 16 first remade into a modlet and tweaked for Alpha 17 and now further enhanced for Alpha 18. The purpose of SMXhud is to take the in-game HUD into a more horror like and gritty art style all while trying to stay as informative as possible while not being intrusive on your gameplay.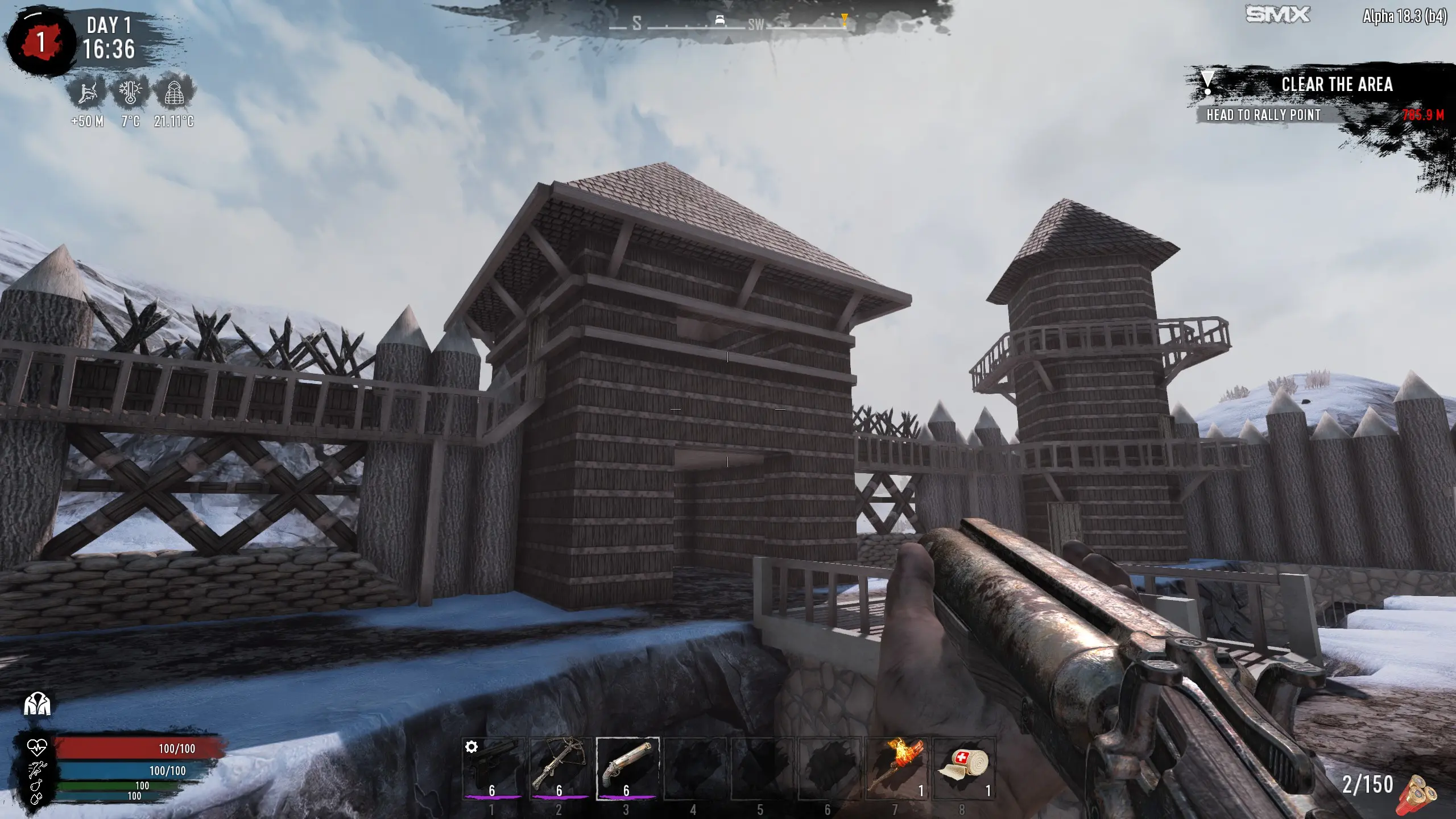 // Install and remove
Download the modlet from one of the locations below.

Decompress the modlet using WinRAR or a compatible archiver.

Copy or move the Mods folder into your 7 Days to Die installation folder.

Verify the install by checking that the ModInfo.xml file is located in this hierarchy: "\Mods\SMXhud\ModInfo.xml"

Remove by deleting the SMXhud folder inside the Mods folder.
// The Downloads
SMXhud can be downloaded from three sources. NexusMods, which is my main distribution platform. Everything I distribute launch here first. Github, which is my mirror of choice for those that cannot or will not use NexusMods. SphereII's Mod Launcher, an easy to use mod and modlet installer for 7 Days to Die.
// SphereII's Mod Launcher
// The Optionals
SMXhudTHB is easiest to install from SphereII's Mod Launcher. This due to its dependency on a patchscript to remove the God Mode lock that the bar is hidden behind. It can of course be installed manually. To do so, download it from the github link below, but you will then have to download and install the 0-SphereIICore modlet, the DMT tool and patch the game engine manually...trust me, use the Mod Launcher!
- Installing this makes the game non EAC friendly, and will render you unable to play on EAC enabled servers. You will also need to enter the launcher and turn off EAC or you will just be met by a black screen when starting the game.
// Support SMX Development
All SMX branded mods and/or modlets will forever be free of charge and available for everyone to download and enjoy. I do however from time to time get questions from users on how to donate and support the SMX development. The purpose of this link is nothing more than a way for me to cater to those that want to make a donation. You should under no circumstance feel obligated to do so, but if you decide to do it I want you to know that is comes greatly appreciated.
Donation or not I would like to extend a thank you to all that download and use the different SMX mods, I hope you enjoy them as much as I do making them.
If you feel like making a donation to support the development of the SMX branded modifications, click the image below.